Wholesale virgin pure olive oil for cooking
Wholesale virgin pure olive oil for cooking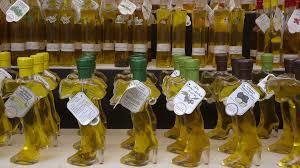 Product Description
Wholesale Virgin Pure Olive Oil For Cooking

Extra-virgin Olive Oil Is The Most Digestible Of The Edible Fats And:

It Helps To Assimilate Vitamins A, D And K;
It Contains Essential Acids That Cannot Be Produced By Our Own Bodies;
It Slows Down The Aging Process;

Extra Virgin, Along With The Standard Virgin Olive Oil, Is Extracted Directly From The Olive Fruit By Grinding The Olives In Thermal Conditions Which Preserves The Natural Taste. The Method For Extracting The Oil Is What Is Known As "cold Pressed," Which Keeps The Oil From Losing Its Flavor That Can Be Lost When Exposed To High Temperatures.
Extra Virgin Olive Oil Is Produced Naturally, Meaning That The Oil Is Not Made From Any Sort Of Chemical Treatments. Virgin Oil Is Also An Indication That The Oil Is Not Refined, That They Are Of A Higher Quality And Retain Their Natural Flavor.


ABBAY TRADING GROUP, CO LTD
Other Products in 'Food & Beverage' category
Quick Inquiry

Contact Details
ABBAY TRADING GROUP, CO LTD
Kurtulus Meydani Inonu Bulvari No. 70, Klas Plaza A Blok, Kat 13 D.24-26,Mersin - 33940, Icel, Turkey
Mr. Chris Jones
(
Sales Manager/Sales
)
Mr. Chris Jones (Sales Manager/Sales)
Whatsapp +90 552 479 9947