Nutmeg for sale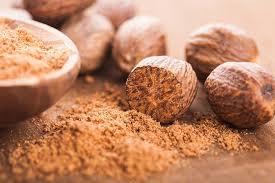 Product Description
NUTMEG Specifications
Moisture: 11% Max,
Purity: 100%,
Foreign Matter: 1% Max
Description:
Botanical Name: Myristica fragrans

Family Name: Myristicaceae

Commercial part: Seed
Uses
1) Mace is used as condiment particularly in sweet foods.
2) The spice in the ground form is mainly used in the food processing industry especially as a standard seasoning in many Dutch dishes.
3) Mace is used in the preparation of meat products, soups, sauces, baked foods, confectionaries, puddings, seasoning of meat and vegetable etc.
4) The fleshy outer cover of the fruit is crystallized or pickled or made into jellies.
5) Mace is used in savory dishes.
6) It is used as a drug in Eastern countries because of its stimulant, carminative, astringent and aphrodisiac properties.
7) Excessive doses have a narcotic effect.
8) Nutmeg oil is used in cosmetics and toiletries.
Specification
Moisture: 11% Max,

Purity: 100%,

Foreign Matter: 1% Max
Crop Year:
(Current Year)
Origin: India
Minimum Order Quantity: 1x 20 FT Container
Load ability: 10 MT per 20 FT Container
Packing: 50 Kg PP Bag
Payment:
40% payment by TT as advance at the time of confirming order

60% payment after 15 days when showing BL by fax/email that goods have shipped already.
ABBAY TRADING GROUP, CO LTD
Other Products in 'Spices' category
Quick Inquiry

Contact Details
ABBAY TRADING GROUP, CO LTD
Kurtulus Meydani Inonu Bulvari No. 70, Klas Plaza A Blok, Kat 13 D.24-26,Mersin - 33940, Icel, Turkey
Mr. Chris Jones
(
Sales Manager/Sales
)
Mr. Chris Jones (Sales Manager/Sales)
Whatsapp +90 552 479 9947